Ingiliz blogger Les Rosbifs
ve
Radyosporda
ilginc bir haber yer almakta Daruis Vassell transferi ile ligimizde önemli bir ses getiren ve 100.yılını kutlayan Ankaragücü Portsmouth ile bu sezon sozlesmesi biten Sol Campbell ile anlaşma sağlandığı ifade ediliyor. Campbell gelir mi gelmez mi bilinmez ama futbol ligimiz git gide adından sıkca soz ettirmeye devam ediyor. Bu sezon zaten harika bir lig izleyeceğiz gibi Gaziantepspor-Bursaspor-Ankaragucu-Eskişehirspor gibi Anadolu takımları hiç bu kadar ust seviye takımlar kurmamıştı. Eğer ki olası Campbell transferi de gerceklesirse Ingiltere Milli Takımında aynı dönemde oynamıs 2 oyuncuyu bu sezon Ankaragucu forması ile izliyor olacagız. Bu arada haberde Portillo ve Maniche'e de teklif yapıldıgı ama bu oyunculardan olumlu yanıt gelmediği de belirtilmekte.
Haber Metni;
kaynak
Now we're never one to spread non-stories or blatant lies on Les Rosbifs, but rumours coming out of Turkey this afternoon suggest that Sol Campbell will be on his way to join Super Lig side Ankaragücü. This would make the Portsmouth central defender, who is currently out of contract, the third Englishman to sign for the Turkish side this summer, following on from Darius Vassell and Ian Henderson.
Sources coming out of Istanbul have suggested that a 'good' contract offer has been given to Campbell, who in turn is mulling it over. The defender, who is also rumoured to have attracted interest from Newcastle United, Aston Villa, West Ham United, St Etienne and clubs in Greece, have struck a positive chord with Ankaragücü management, who are said to be keen to sign him at all costs. One or two sources have said it is a done deal, but my usual, reliable contact in Ankara has said that the contract has not yet been signed, despite the strong desire of the club to sign him.
What is known fact though is that Ankaragücü are looking to celebrate their centenary season by making a big splash in the transfer market as they seek to have a successful season, after recent spats with the relegation zone. Also mentioned in the correspondence I have received is former Real Madrid and Fiorentina striker Javier Portillo. Fans of the club are genuinely excited by the arrival of Vassell and Henderson, plus the potential arrival of other good players, such as Portillo and Maniche, both of whom are said to be in negotiations with the club.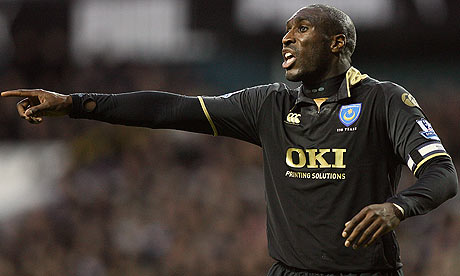 Whilst not a team of 'Galaticos' to match the summer spending by the likes of Galatasaray and Fenerbahce, the way the Ankaragücü team is shaping up suggests a push for a Europa League place this coming season.
Campbell, who is 34 years of age, has won 73 caps for England in a career spanning 17 years. Having started out at Tottenham Hotspur, Campbell then made the decision to join arch-North London rivals Arsenal in 2001. A move to Portsmouth followed in 2006, the highlight of which was captaining the side to FA CUp Final victory over Cardiff City in 2008.
MKE Ankaragücü finished in 13th in the Süper Lig last season, narrowly avoiding relegation by one point. The previous season they finished ninth, just one place ahead of city rivals Ankaraspor. Their most notable recent success was as runners-up of the Turkish Cup in 1991. The Cup is their only notable success in their history, having won it twice in 1972 and 1981. Success in European competition has been limited, although they did record a 1-0 win over Atletico Madrid in 1999.